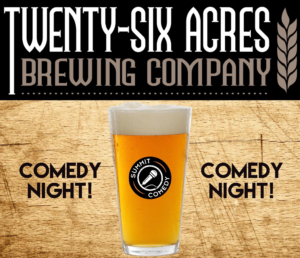 These shows are 21 and up, and a human only, event. So, we'll be asking all of the kiddies and doggies to take an Uber home around 7:30. Showtime 8pm.  Pre-register below.
NOT SO SMALL PRINT: *No Refunds *Adult Comedy: May not be for the easily offended! *21 & up
1/03/19 COMEDY NIGHT!
$15 in advance / $20 @ door
Scheduled to appear:
Emcee: JASON ALLEN KING
JAMES R. HUSTLE
MIMI BENFIELD
RYAN VAN GENDEREN
CLAUDE STUART
TONY ESPOSITO


Email chuck@summitcomedy.com if you'd like to be placed on our email notification list for ticket updates.
Click HERE for our Facebook Page